FLIR A65
FLIR A65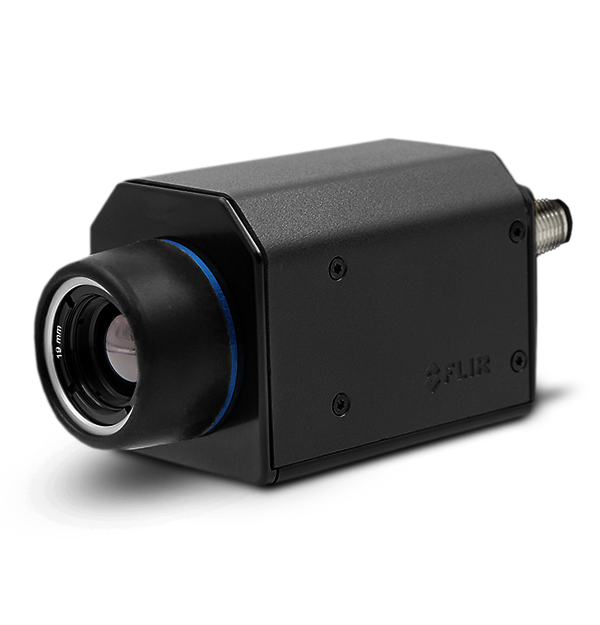 The FLIR A65 is a thermal imaging temperature sensor for process control/quality assurance, fire prevention, and condition monitoring that offers comprehensive visual temperature monitoring. The A65 integrates seamlessly into existing systems and provides temperature linear output through GenICam™ compliant software.
Advanced Thermal Imaging For Condition Monitoring
AFFORDABLE AND COMPACT

At just 4.1 × 1.9 × 1.8 in, the A65 brings thermal imaging to your smallest spaces at an affordable price.

PLUG-AND-PLAY

Easy setup thanks to GigE Vision and GenICam compliance and GigE Vision lockable connector.

CONNECT MULTIPLE CAMERAS

Synchronize between multiple cameras for greater coverage and communication, or for stereoscopic applications.
OVERVIEW
Base Mounting

4 × M3 thread mounting holes (bottom)
Detector Type

Focal plane array (FPA), uncooled VOX microbolometer
Focal Length

13 mm (0.5 in.)
Housing material

Magnesium and aluminum
IR Resolution

640 × 512 pixels
Packaging Size

295 x 200 x 105 mm (11.6 x 7.9 x 4.1 in.)
Spectral Range

7.5–13 µm
Tripod Mounting

UNC ¼''-20 (on three sides)
CONNECTIONS & COMMUNICATIONS
Digital I/O connector type

12-pole M12 connector (shared with Digital Synchronization and External power)
Digital I/O isolation voltage

500 VRMS
Digital I/O supply voltage

2–40 VDC, max 200 mA
Digital input purpose

General Purpose
Digital Inputs

1× opto-isolated, ''0'' <1.2 VDC, ''1'' = 2–25 VDC.
Digital Output Purpose

General purpose output to ext. device (programmatically set)
Digital Outputs

1× opto-isolated, 2–40 VDC, max 185 mA
Digital Synchronization Connector Type

12-pole M12 connector (shared with Digital I/O and External power)
Ethernet

Control and image
Ethernet Communication

GigE Vision ver. 1.2 Client API GenICam compliant
Ethernet Connector Type

RJ-45
Ethernet Image Streaming

8-bit monochrome @ 60 Hz Signal linear/ DDE Automatic/ Manual Flip H&V 14-bit 320 × 256 pixels @ 60 Hz Signal linear/ DDE Temperature linear GigE Vision and GenICam compatible
Ethernet Power

Power over Ethernet, PoE IEEE 802.3af class 0 Power
Ethernet Protocols

TCP, UDP, ICMP, IGMP, DHCP, GigEVision
Ethernet Standard

IEEE 802.3
Ethernet Type

Gigabit Ethernet
Synchronization in

1×, non-isolated
Synchronization in - purpose

Frame synchronization in to control camera
Synchronization in - type

LVC Buffer @3.3V, ''0'' <0.8 V, ''1'' >2.0 V.
Synchronization out

1×, non-isolated
Synchronization out - purpose

Frame sync out to control another Ax5 camera
Synchronization Out - type

LVC Buffer @ 3.3V, ''0''=24 MA max, ''1''= –24 mA max.
ENVIRONMENTAL
Atmospheric transmission correction

Automatic, based on inputs for distance, atmospheric temperature and relative humidity
EMC

EN 61000-6-2 (Immunity) EN 61000-6-3 (Emission) FCC 47 CFR Part 15 Class B (Emission)
Emissivity Correction

Variable from 0.5 to 1.0
Encapsulation

IP 40 (IEC 60529) with base support mounted
Humidity (Operating and Storage)

IEC 60068-2-30/24 h 95% relative humidity 25°C to 40°C (77°F to 104°F)
Operating Temperature Range

–15°C to 50°C (5°F to 122°F) The operating temperature range assumes that the camera is mounted on the base support (included in the package) or a similar type of heatsink.
Shock

25 g (IEC 60068-2-27)
Storage Temperature Range

–40°C to 70°C (–40°F to 158°F)
Vibration

2 g (IEC 60068-2-6 & MIL-STD810G)
IMAGING & OPTICAL
Camera size (L x W x H)

106 × 40 × 43 mm (4.2 × 1.6 × 1.7 in.)
Detector Pitch

17 µm
Detector Time Constant

Typical 12 ms
f-number

1.25
Field of view (FOV)

45° × 37°
Focus

Fixed
Image Frequency

30 Hz
Spatial resolution (IFOV)

1.31 mrad
MEASUREMENT & ANALYSIS
Accuracy

±5°C (±9°F) or ±5% of reading
External Optics & Windows Correction

Automatic, based on input of optics/window transmission and temperature
Measurement Corrections

Global object parameters
Object Temperature Range

-25°C to 135°C (-13 to 275°F) / –40°C to 550°C (-40 to 1022°F)
Optics Transmission Correction

Automatic, based on signals from internal sensors
Reflected apparent temperature correction

Automatic, based on input of reflected temperature
Thermal Sensitivity/NETD

< 0.05°C @ 30°C (86°F) / 50 mK
POWER
External Power Connector Type

12-pole M12 connector (shared with Digital I/O and Digital Synchronization )
External Power Operation

12/24 VDC, < 3.5 W nominal < 6.0 W absolute max
Voltage

Allowed range 10–30 VDC